Summary
China's logistics sector has a bright future. Its economy keeps growing with an annual rate of seven percent, which stimulates the demand for logistics. Also the accession to the WTO will increase its import and export and bring new opportunities to the logistics sector. The influx of foreign capital and multinational logistics enterprises in the Chinese market will help to modernize the country's logistics.
Background
Economic Environment
Before the introduction of the policies of reform and opening to the outside world, China had a unitary public ownership economy, which lacked vitality. But since the putting into practice of the reform and opening to the outside world, the Chinese government has encouraged the development of diversified economic elements while insisting on the primacy of public ownership. As a result, both the individual and private economies have developed rapidly and the GDP has quadrupled. In 1999, with its 1.25 billion people but a GDP of just $3,800 per capita, China became the second largest economy in the world after the US. Agricultural output doubled in the 1980s, and industry also posted major gains, especially in coastal areas near Hong Kong and opposite Taiwan, where foreign investment helped spur output of both domestic and export goods.
Industry and commerce constitute the basis of the Chinese economy, but agriculture employs the majority of the labor force. About 60% of the labor force is engaged in agriculture and forestry, about 25% work in industry and commerce, 5% in construction and mining, 5% in social services, and 5% other areas. Important Chinese industries include textiles, garments, machinery, cement, iron and steel, coal, and oil.
Trends:
- China's gross domestic product (GDP) is growing about 8 times as fast as the population.
- Both imports and exports are increasing.
- The growth of the overall national economy was driven formerly by the primary and secondary industries, but now it is being driven by the secondary and tertiary industries.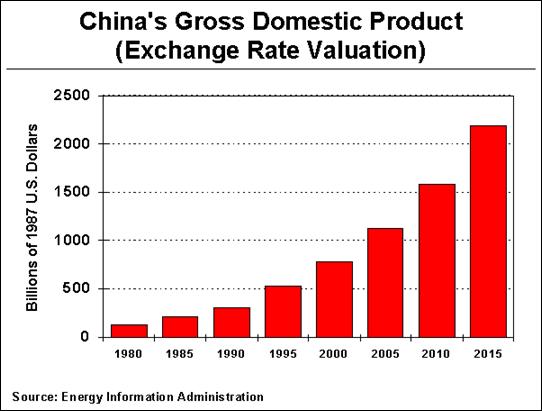 Legal and Political Environment:
Beginning in late 1978 the communist Chinese leadership has been moving from a sluggish Soviet-style centrally planned economy to a more market-oriented economy but still within a rigid political framework of Communist Party control.
On the darker side, the leadership has often experienced in its hybrid system the worst results of socialism (bureaucracy, lassitude, corruption) and of capitalism (windfall gains and stepped-up inflation). Beijing thus has periodically backtracked, retightening central controls at intervals.
Trends:
- More decentralization - plans to speed up privatization of state owned enterprises.
- More Chinese-foreign joint ventures.
Competitive Environment:
Various market access restrictions are lifted over the next few years as China honors its commitment to the World Trade Organization (WTO). New regulations which have been recently implemented by the Ministry of Foreign Trade & Economic Co-Operation (MOFTEC) allow foreign investors to operate logistics businesses and getting products to the end customer has proven to be the key challenge in one of the fastest growing markets in the world. One year after joining to WTO, changes to tariffs, relaxed legalities, to customs - most businesses operating in China have benefited from the association. China's spending last year on logistics was about US$200 billion - 20% of the country's GDP. It is expected that China's logistics market for third party logistics over the next 10 years will grow 16 to 25 % annually. (source - Morgan Stanley report).
Trends:
- More competition since entering the WTO.
- More demand for shipping (joint ventures).
Technological Environment
China has to tackle some serious concerns on the R&D front. Much of China's research has traditionally been driven not by universities but by government controlled organizations.
Poor linkage among government, university and industry researchers has resulted in inefficient utilization of the country's science and technology resources. Since the late 1980s, China has made various efforts to utilize funds more efficiently. Inadequate intellectual property protection however discourages Chinese companies from investing in research. Several foreign companies, including Microsoft, have established research centers in China, but much of their research has focused on product localization. Cutting edge research by foreign companies will probably take off only if China moves fast on the IPR front.
Trends:
- The level of technical equipment of transport, posts and telecommunications is continuously rising.
- Boost in car sales.
- More demand for high-end products.
Social and Cultural Environment
China is the most populous country in the world, home to 1.2 billion people (20% of the world's total). Population growth, however, is slowing. It currently averages below 1%. Total population is expected to peak at about 1.45 billion around 2030. About 70% lives in rural areas. The population density is highly uneven. Vast desert areas of western China are nearly uninhabited, while areas of eastern China are among the most densely populated in the world. Average population density is about 325 per square mile.
Women comprise over 40% of the labor force, but this excludes the large number of women engaged in agricultural and household work.
China has one dominant ethnic group -- Han, with over 90% of the population -- and dozens of others. China is officially atheist, but traditional religions and philosophies of life--including Confucianism, Buddhism, and Taoism-- remain important. About 2-3% of the population is Muslim, 1% Christian.
Mandarin (northern Chinese) is the principal and official language of China. Local dialects are spoken in the south and southeast.
English is not widely spoken.
Trends:
- With inflation currently under control (projected to be about 5% in 1997), real income per capita is increasing rapidly.
- Continuous population growth.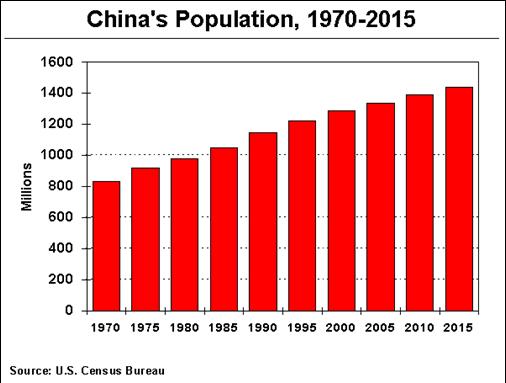 Part III: Analysis
This analysis is done for DHL Danzas Air & Ocean. While its core business is transporting documents and packages, it also offers e-Commerce fulfillment and intelligent logistics solutions, particularly special solutions for various industries such as Automotive and Life Sciences as well as customized solutions for global customers.
Chinas GDP was continuously increasing over the past few years and it will grow with an average of 8% (2002 est.) over the next years. With the GDP the import and export market will grow in the same way so that there will be an ongoing need for transportation in this country. 
After thirty years of austerity and marginal sufficiency, Chinese consumers suddenly were able to buy more than enough to eat from a growing variety of food items. Stylish clothing, modern furniture, and a wide array of electrical appliances also became part of the normal expectations of ordinary Chinese families. This trend will lead to a higher demand of shipping and transportation to and within China. Further the development of e-business will also take logistics to a new level. With the influx of foreign capital into China, the part of logistics market, which serves foreign-funded and non-governmental companies, will be the first to make progress.
Recommendations
DHL is already present in the Peoples Republic of China with its joint venture with Sinotrans. The company has secured the leadership position in the China air express industry and holds 37% of the national market share. The market in which DHL-Sinotrans should enter is the import and export market for industrial goods. Sales figures for this segment are up and coming. DHL is a company of the Deutsche Post World Net, which has all the possibilities to transport goods by air, land and sea to all continents all over the world. Therefore, it is not out of reach for DHL to enter this shipping segment.
The target market of DHL should be the import/export of industrial goods, concentrated to the urban areas near the eastern coastline. Therefore, following marketing mix should be taken into consideration.
For promotion we suggest personal promotion by sales representatives and advertising in newspapers, billboards and manager magazines of the important industrial nations and for sure in China.
Products/ services should cover the whole handling of shipping import/ export goods including customs duty, taxes and all kind of paper work.
Meet competitors prices or do it even better. If this is not possible, make higher prices and offer therefore special packages, including all the services from above.
Part V: Bibliography
List of Print Media:
China: New Force in World Affairs; Isenberg, Irwin; Kettering Library
Preparing for the twenty first century; Paul Kennedy; Kettering Library
China is too darn hot!; Fortune Magazine; November10, 2003; Kettering Library
List of Websites:
DHL China; http://www.cn.dhl.com;
http://www.fmprc.gov.cn/eng/default.htm